need my job professional sewing machine technician

Of course, I'd be happy to help you become a professional sewing machine technician! Here's a general guide on how to become one:
1. Education and Training:
High School Diploma: Start by obtaining a high school diploma or equivalent.
Vocational School: Consider enrolling in a vocational or technical school that offers courses in sewing machine repair or industrial machinery maintenance.
2. Gain Sewing Machine Knowledge:
Develop a strong understanding of various types of sewing machines, their components, and how they work. Learn about different stitching techniques and machine features.
3. Technical Skills:
Develop hands-on skills in repairing and maintaining sewing machines. Practice on different makes and models to gain experience with a variety of issues.
4. Apprenticeship or Entry-Level Position:
Consider finding an apprenticeship or entry-level position with an established sewing machine repair business. This will provide you with practical experience and the opportunity to learn from experienced technicians.
5. Certifications:
Look into certifications from industry organizations such as the Sewing Machine & Allied Trades Association (SMATA) or the Electronics Technicians Association (ETA). Certifications can enhance your credibility and job prospects.
6. Communication Skills:
Good communication skills are essential in dealing with clients and explaining repairs. Being able to understand customers' concerns and explain technical details in a clear manner is important.
7. Business Skills:
If you plan to run your own repair business, develop skills in customer service, inventory management, and basic business practices.
8. Stay Updated:
Sewing machine technology evolves, so it's crucial to stay updated with the latest advancements in the field. Attend workshops, seminars, and industry events to continue learning.
9. Tools and Equipment:
Acquire the necessary tools and equipment for sewing machine repairs. This might include specialized tools for disassembling, cleaning, and adjusting sewing machines.
10. Build a Portfolio:
Document your repairs and successful projects. This portfolio can be useful when seeking employment or building your own repair business.
11. Customer Service:
Providing excellent customer service is key to building a loyal clientele. Be attentive to your customers' needs and offer solutions that meet their expectations.
12. Safety First:
Always prioritize safety while working on sewing machines. Follow proper procedures and guidelines to prevent accidents and injuries.
13. Networking:
Join sewing machine repair forums, online communities, and industry associations to connect with other professionals and stay updated on industry trends.
Remember, becoming a skilled sewing machine technician takes time and dedication. Start by acquiring the necessary knowledge and skills, gaining practical experience, and continuously improving your abilities. Whether you work for an established business or start your own, your expertise will be valued by those who rely on their sewing machines.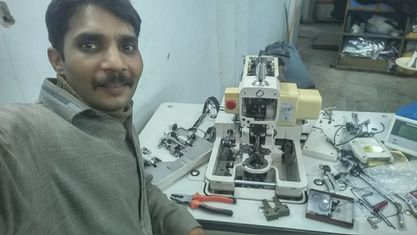 Lifestyle
You may be interested in these jobs
---

Pakistan Civil Aviation Authority PCAA

Karachi, Pakistan

Full time

Today Jobs, this page inform you about PCCA Pakistan Civil Aviation Authority Latest jobs Published today in Leading Newspaper for Males and Female Applicants. · PCCA Pakistan Civil Aviation Authority ...

---

Pablic Sector Organization

Peshawar, Pakistan

Full time

Latest Driver Jobs in Peshawar September 2022 Advertisement has been announced and looking Interested, Dynamic , Experience, Brilliant Candidate to Full fill these Positions with a Handsome salary Pac ...

---

Aga Khan University

Pakistan

Entity:ÿAga Khan UniversityÿLocation: KarachiÿIntroduction to the Aga Khan University: ÿThe Aga Khan University is a private, international university committed to international standards of excellenc ...