Blogging
>
Muhammad blog
>
Investigating the effects of social media in enhancing communication and collaboration among University's students
Investigating the effects of social media in enhancing communication and collaboration among University's students
Social media plays a significant role in enhancing communication and collaboration among university students. It provides a platform for students to connect, share information, collaborate on projects, and engage in discussions beyond the traditional classroom setting. Here are some ways in which social media enhances communication and collaboration among university students:
Networking and Connectivity: Social media platforms allow students to connect with their peers, faculty members, and even professionals in their field of interest. This networking can lead to valuable connections, mentorships, and opportunities.
Information Sharing: Students can share relevant academic information, resources, study materials, and research findings through social media. This fosters a culture of knowledge exchange and helps students stay updated with the latest developments in their field.
Group Projects and Collaboration: Social media provides a convenient way for students to collaborate on group projects and assignments. They can create private groups or chat threads to discuss project details, share files, assign tasks, and track progress.
Discussion Forums: Many universities create dedicated groups or forums on social media platforms where students can engage in discussions related to coursework, assignments, and academic topics. This enables students to seek help from their peers, share insights, and gain a deeper understanding of the subject matter.
Event Promotion and Participation: Universities often use social media to promote campus events, workshops, seminars, and lectures. Students can easily find information about these events and engage in discussions about them, both before and after they occur.
Student Organizations and Clubs: Social media platforms allow student organizations and clubs to reach a wider audience and attract new members. These platforms help in promoting the activities and goals of various student groups, fostering a sense of community and involvement.
Feedback and Reviews: Students can share their experiences about courses, professors, and university facilities through social media. This feedback can help other students make informed decisions and provide valuable insights to the university administration.
Peer Support and Emotional Well-being: Social media can be a platform for students to offer emotional support to one another. University life can be challenging, and students can use these platforms to share their struggles, seek advice, and find a supportive community.
Professional Development: Social media provides opportunities for students to showcase their skills, projects, and achievements. Platforms like LinkedIn can help students build a professional online presence and connect with potential employers.
Global Perspective: Social media connects students with peers from diverse backgrounds and cultures, allowing them to gain a broader perspective on various topics and issues. This exposure enriches their learning experience and prepares them for a globally interconnected world.
Despite these benefits, it's important to note that social media usage should be balanced and mindful. Universities and students should consider privacy concerns, online etiquette, and the potential for distraction. Moreover, not all students may have equal access to social media platforms, so alternative communication methods should also be available for inclusivity.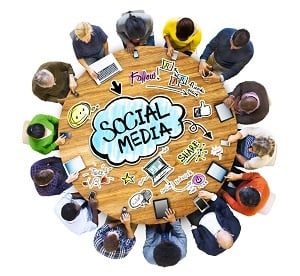 Education
You may be interested in these jobs
---

:Grade Level: L2/ L3Location: Karachi, Lahore, IslamabadLast date to apply: 28thMarch 2023What is Enterprise Architect ? Solution Sales?You will be part of Core Team (Solution Sales) with a combined o ...

---

Ministry of law and Justice

Islamabad, Pakistan

Full time

New Paid Internships in Ministry of Law & Justice September 2022 has been announce The ministry of Law and Justice is Inviting Application For the Post of Intern/ Associate Lawyers Eligibility Criteri ...

---

Cadet College Petaro

Jamshoro, Pakistan

Full time

New Cadet College Petaro Jobs in Sindh December 2022 has been announced through the latest advertisement and looking for Interested, Dynamic, Experience, Brilliant Candidate to Full fill these Positio ...