How does work nuclear plant
HOW DOES NUCLEAR PLANTS WORK.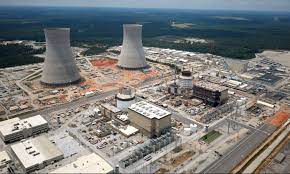 A nuclear power plant generates electricity by using the heat produced from nuclear fission. Nuclear power plants use uranium as fuel, which is mined from the earth and then refined.
The process begins when the uranium is mined and refined into a form called yellowcake. The yellowcake is then converted into a gas called uranium hexafluoride (UF6). The UF6 is then loaded into fuel rods, which are placed into a reactor.
Inside the reactor, the UF6 undergoes nuclear fission, a process in which the uranium atoms split and release a tremendous amount of energy. This energy is used to heat water, which produces steam. The steam is then used to turn a turbine, which generates electricity.
The nuclear reaction is carefully controlled by a system called a control rod. The control rod absorbs excess neutrons, which slows down the reaction and prevents the release of too much energy.
After the nuclear reaction has taken place, the fuel rods are removed from the reactor and replaced with fresh ones. The used fuel rods are stored in a cooling pond for several years before being transported to a reprocessing facility, where they are treated to extract usable uranium and plutonium.
Safety is a top priority in the operation of a nuclear power plant. The plant is equipped with multiple layers of protection, including containment buildings and emergency cooling systems, to prevent the release of radiation in the event of an accident.
Despite the inherent risks, nuclear power has several advantages as a source of electricity. It is a reliable and continuous source of energy, and it produces virtually no air pollution or greenhouse gases. However, the high cost of building a nuclear power plant and the potential for nuclear accidents have led some countries to pursue other sources of electricity.
Science and Technology
Articles from MASOOD RANA (Entertainment)
View blog
You may be interested in these jobs
---

Canal Division

RY Khan, Pakistan

Full time

Latest Canal Division RY Khan Jobs April 2023 has been announce through latest advertisement In order to recruit the following serial posts in Rahim Yar Khan Kaital Division on per-charge basis, appli ...

---

Internship - Air · FreightDuration & Stipend: · This is a paid internship for the period of (03) months · Description: · During the internship period, the incumbent will be given an opportunity to see ...

---

Cadet College

Jaffarabad, Pakistan

Full time

Latest Cadet College Jaffarabad Jobs April 2023 has been announce through latest advertisement Incomplete applications received after the due date will not be entertained. · Candidates for the followi ...