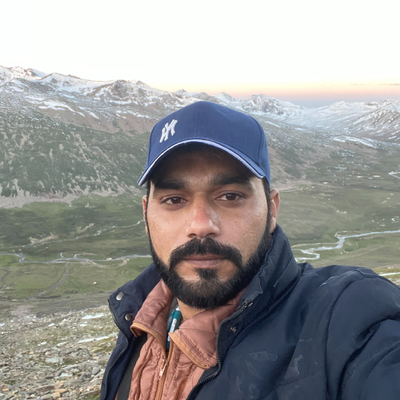 About me:
having almost 3 years experience in manual testing
Experience
.Hands-on experience in performing Black box Testing, White box Testing, Unit Testing, System Testing, Integration Testing, Acceptance Testing, Regression Testing 
• Testing desktop and mobile versions of the web application in QA and production environments
• Develop and execute test cases and test suits for various functionalities 
• Knowledge of Agile and Waterfall models of Software Development Life Cycle Hands-on experience in performing Functional, Exploratory, Regression, Functionality, Browser Compatibility, Build Verification, GUI, Usability Tests Planning and optimization of the workflow process for maximum efficiency 
• Functional and Non-Functional testing 
• Knowledge of SDLC, STLC, Bug Life Cycle Expertise in Manual testing and Mobile Application testing 
• Manually tested mobile applications on IOS and android platforms using various devices 
• Performed compatibility testing with various mobile handsets to ensure that functionality working as expected 
• Tested the application under different networks and Internet speeds including on 3G, 4G/LTE and Wi-Fi 
• Perform functional, regression, and usability testing on mobile devices in android, IOS 
• Involved in testing application on different mobile Platform such as iOS and Android devices 
• Created and executed manual smoke, functional, regression, system, integration and exploratory tests 
• Ensuring that all QA Tests are carried out on time and in full 
• Conduct cross-browser testing in chrome, Firefox, MS edge in windows 10 
• Utilizing the bug tracking system and perform bug fix verification testing 
• Wrote and executed SQL queries to retrieve data from database using MySQL 
• Participate in weekly QA meetings to discuss the bug fixes and latest builds 
• Keeping quality documentation up to date
Engineering / Architecture profesionals
Professionals from different sectors near Lahore, Lahore District
Other users who are called Farrukh
Jobs near Lahore, Lahore District
Found in: beBee S2 PK - 6 days ago

---

Mustakbil

Lahore

Full time

We are looking for a creative, detail-oriented individual to join our team as a Motion Graphics/ Visual Effects Artist. The responsibilities include but not limited to creating computerized animations and special effects, fixing up details for video media, and following instructi ...

Found in: beBee S2 PK - 6 hours ago

---

District and Session Court

Lahore Punjab

Full time

Today Jobs, this page inform you about District and Session Judge Office Latest jobs Published today in Leading Newspaper for Males and Female Applicants. · District and Session Judge Office Sheikupura is looking the services of Excellent and Experienced applicants for the posts ...

Found in: beBee S2 PK - 5 days ago

---

At EMPG LABS, an EMPG company, we are looking to further expand our Pakistan engineering office of already 250+. We are most interested in bringing on board colleagues who love to learn, perform, and teach. We are building a high-quality engineering environment with a super focus ...